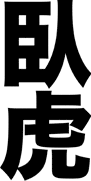 Sensei Aimee Wong Rogers
Lead Instructor
3rd Dan Black Belt - Shotokan Karate
Qualified First Aider
Club Equity Officer
Karate has been a huge part of my life since I was 2 years old and started taking classes with Sensei Ben.
​
My passion for karate grew exponentially from then on, taking 1 class a week, then 2, then 6. And my dedication was rewarded when I achieved my 1st Dan in the summer of 2017 and my 2nd Dan almost exactly 2 years after, in the summer of 2019.
​
I've been a part of Crouching Tiger Karate for my whole life because it has an energy that you just can't replace. I love the way that someone who enjoys the athleticism of karate will train with another person who's more interested in the teamwork aspect, and with another who likes karate for its values of integrity and discipline. But most of all, the element of continuous self improvement shared by everyone in the room is what makes Crouching Tiger Karate such a special place.
In 2018, I was invited to join the Crouching Tiger Karate teaching team as a junior instructor. Being a part of such an incredible team that I had looked up to for so long was, and still is, one of the most unbelievable opportunities I've ever had. I hope to use it to help our students to develop as people as well as practitioners and to encourage them to use their strengths to make themselves and our karate community even better.
​